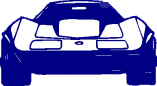 84-96
Top Wrench
#TP100
$27.00ea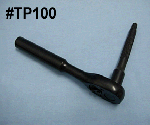 © Copyright 2012. Bair's, Inc. All Rights Reserved.
Corvette is a registered trademark of General Motors Corporation and Chevrolet Motor Division.
No challenge to ownership is implied.

Precision Rivet Tool for Classic Corvettes
The Rivet Tool allows for the precision setting of tubular and semi-tubular rivets used on Classic Corvettes, such as those used on rebound straps, window channels and heater boxes, without damaging the material being riveted. It is supplied with two depth adjustable rivet head bases, one for truss head rivets and one for flat head rivets, and two interchangeable rivet setting/folding over tips, one for large rivets and one for small rivets.
#ST103
$78.50ea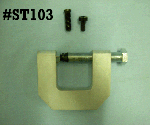 Wheel Lug Nut Cleaning & Polishing Brush
Makes cleaning recessed lug nut wheels quick & easy. Convenient T- Handle design. Cleans wheel cavities from 1-3/8" to 2" with lug nuts from 3/4" to 13/16". Includes 1 extra foam cleaning head.
#WH926
$10.99ea